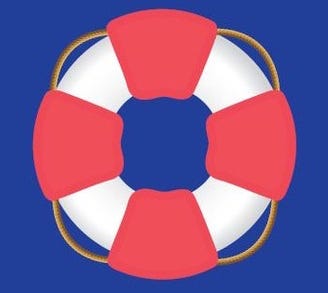 This is Day Six of National Safe Boating Week here in the USA, when the
National Safe Boating Council
highlights ways to stay safe on the water. Whether you're venturing out on the high seas or sticking close to shore, a few simple steps can help you get home in one safe piece.
Everything shipshape?
Before you leave the dock, check over your boat to make sure everything is working properly. The US Coast Guard Auxiliary has
a safety checklist
you can print out and keep handy.
Wear it!
As everyone should know, a boat is required by law to carry a personal flotation device for each passenger; PFD laws vary
from state to state
, many requiring a life jacket to be worn by children age 12 and under (age 6 and under in Florida). The Safe Boating Council recommends that
all
boaters, regardless of age, wear a life vest while boating. A properly fitting life jacket can make the difference between life and death. There are PFDs for all ages and sizes, even
infants
and
pets
.
Make a plan.
It's always a good idea to tell someone where you're going and when to expect you back when you take the boat out. For longer boat trips, make a float plan. Unlike a flight plan, a float plan isn't filed with any government agency. The float plan from the
US Coast Guard Auxiliary
is a form where you can list your passengers, your itinerary, emergency supplies on board, contact information, and more. Even if you don't make such a formal plan, do make sure someone on land knows your plans. And be sure to check in if those plans change.
Be prepared.
Does your boat carry an emergency kit? Three blasts of a horn or
whistle
is the universal distress signal. Some boaters carry
an emergency SOS flag
for day use. For short trips on inland lakes, a charged cell phone with emergency contact numbers programmed into it is enough; just make sure you've got a way to charge it up if the battery gets low.
Boat sober.
Operating a boat under the influence of alcohol or drugs is both illegal and unwise. Alcohol slows reaction time and lowers inhibitions, increasing the likelihood of accidents, and if you're caught operating a boat while intoxicated, you face heavy legal penalties. Don't drive drunk, and don't let a drunk friend take the helm. Here's to a fun, safe boating season!