Native water plants feed wildlife like ducks and geese, and give fish places to hide. Blooming aquatics like lilies and lotus brighten lakes and rivers with their beauty. What about when your propeller gets fouled with yards of tough water weeds, or would-be swimmers getting creeped out when they peer down from the dock to see lots of vegetation under the water? Annoying, invasive, or dangerous, water weeds can be controlled.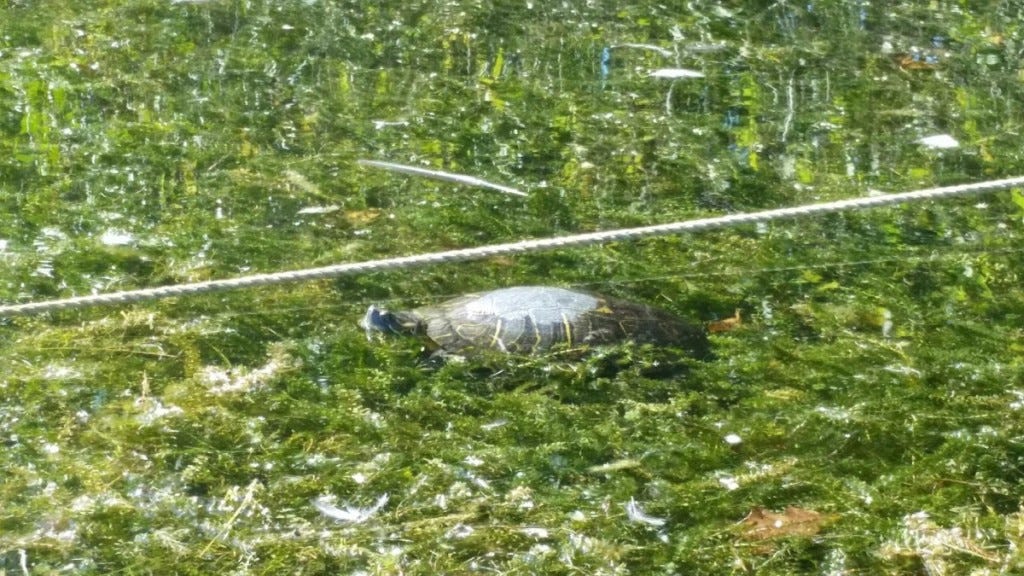 Turtle in watermilfoil by Ann Swain
Just like zebra mussels, some weeds are invasive species that spread from lake to lake when boaters don't properly drain bilges, ballasts, and livewells. Some are carried in by fish and birds. Water weeds like Eurasian watermilfoil, hydrilla, and water hyacinth can quickly take over a lake, clogging waterways and providing the perfect nursery for disease-spreading mosquitoes. They also can tangle your propeller, snarling your plans.
Video tips for cleaning your boat
Your local Department of Natural Resources or DEQ will have information on aquatic invasive species. Learn to spot and dispose of them, or know who to call when you find them; you'll be helping native species thrive. Also, learn how to evict unwelcome hitchhikers from your boat when you've been in waters where these invaders are.
Remember: Clean, Drain, and Dry to contain invasive species. Aquatic herbicides and algaecides are easy-to-use chemicals that destroy weeds and algae. Some are even species-specific (say that ten times fast!). Choose your chemical based on the size of the area you want to treat and the type of plants you want gone. Read the label, follow the directions carefully, and take all label warnings seriously. If in doubt about the suitability of these chemicals to your pond or lake, check with the DNR.
Once the weeds have died back, you can rake them out, or let them decompose naturally where they are. Weed killers are safe for people and animals when used as directed, but if you'd rather avoid chemicals and don't mind putting in some physical effort, you can remove weeds with a rake. Whether you use a garden rake or a special seaweed rake, this tool can remove fallen, mucky leaves and other bottom-dwelling debris that can make barefoot wading unpleasant. Be aware, though, that some weeds spread by fragmentation. This means that new plants can grow from tiny pieces of the plants you just raked out, so be as thorough as you can in removing them.
Management of weeds in shallow lakes sometimes requires the use of a weed harvester – basically, it's a lawn mower for lakes. We've seen these in action on some of our inland lakes, and they are impressive machines.
Photo: Aquarius Systems
Whether it's in your garden or your favorite lake, weed control is an ongoing job. So please do your part: clean, drain, and dry your boat, and clear your propeller carefully if you get snagged.
Happy boating!
Great Lakes Skipper
Related Articles:
Mad Props: Replacing Your Boat's Propeller