Save 10% on all boat propellers through July 22, 2018!
Before every outing, inspect your propeller(s). You can file out small nicks and burrs yourself, and bent edges can be
fixed
by carefully straightening them with a pair of crescent wrenches. Serious mangling needs professional attention from your local prop shop. Sometimes there is more to
prop
damage than meets the eye. In other words, a blade that doesn't look bent might in fact be a bit warped; you'll know if you pick up an unusual vibration while you're under power. Vibration can also indicate a bent propeller
shaft
, which will also need professional repair or replacement. [caption id="attachment_777" align="aligncenter" width="300"]
Photo: BoatTEST[/caption] Fishing line left in the water can get wound around your propeller and interfere with its function. If that tough line wraps up around the prop shaft, it can cut into the seals, rendering them useless. Pull your prop and clear any line trapped there at least twice a year.
Saltwater boaters need to be aware of galvanic corrosion. Replace your zinc
anodes
on schedule to avoid a pitted prop. Galvanic current will eat your anodes before it attacks your valuable propellers. Anodes need replacement at 50% wear.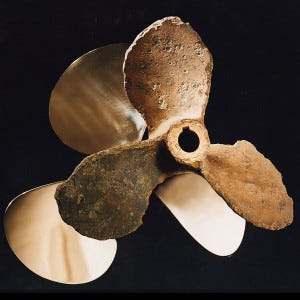 Carry a spare
propeller
. If the worst happens and your propeller gets badly damaged while you're on the water, a spare can get you back to the dock, as well as keep your boat going while you wait for the damaged prop to come back from the repair shop. Check out our
hints
on pulling and replacing propellers. Questions? Hit us up on
Facebook
,
Google+
, and
Twitter
!