Bimini Season: Getting a Perfect Fit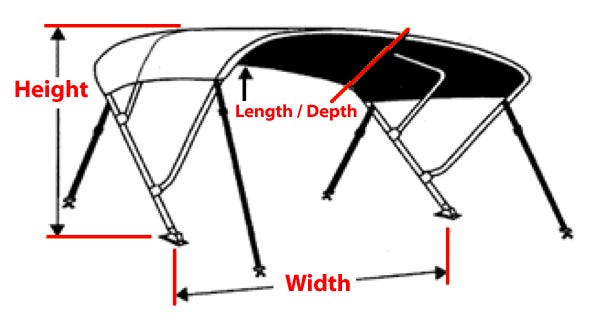 Summer at Great Lakes Skipper is
bikini
bimini season! Did you know that, as long as the size is right, almost any
bimini top
can be installed on any boat? Here's how to find your bimini top size, whether your boat is
big
or
itsy-bitsy
.
Measure once.
This part's easy. Decide how much of your boat you want covered by a top. Then, using a tape measure, find the width and length of that area.
Find your center.
The mounting point for the top's deck hinges will be at about the middle of the bimini top on each side of the boat - in other words, about halfway between the top's front and back edges. After determining where the hinge mounting location will be on each side of the boat, measure the distance between these mounting points to determine the width of top you need. This measurement is not the same as your boat's beam measurement. Bimini frames have some ability to flex to fit boats a few inches wider; this range is indicated in each top's description on
our site
.
Measure twice.
The height of the bimini top is not the same as the length of the frame arms, so you'll need that tape measure again. Standing inside the boat, measure from your mounting point straight up to determine your minimum headroom. Bimini top straps allow for two or three inches in height adjustment.
Shop for your top.
Now the fun part: shopping for your top. Great Lakes Skipper has complete bimini boat tops in a rainbow of colors, to match or contrast with your boat's color scheme. We also have replacement
bimini canopies and curtains
and bimini top
hardware
. Questions? Call us at 262-898-1855 or drop us a line at
customerservice@greatlakesskipper.com
.