Got your shopping done yet? Yeah, neither have we. If you're stumped about what to give your favorite fisherman (or woman!), the Skipper has a few suggestions. Boxes like
this one
are great for holding more than fishhooks. With its movable partitions, this box by Plano can have as few as four to as many as 24 compartments. [caption id="attachment_604" align="aligncenter" width="300"]
Plano Tackle Systems adjustable tackle box, GLS #7102121[/caption] Use this box to organize and store buttons, beads, screws, nails, clips, stamps, keys, or anything small and easily mixed-up or lost. Build a first-aid or sewing kit with one, or use two or three to help organize your "junk drawer." We've seen this type of box for sale in big craft supply stores for double our price – and without the nice flip-up latches to keep the box securely closed. Lund lovers: show your Lund pride with a
branded tackle box
. This box latches tightly and has a waterproof gasket. [caption id="attachment_605" align="aligncenter" width="300"]
Plano Tackle Systems/Lund Boats box, GLS #8302916[/caption] A multi-drawer tackle center can be installed on your boat or used as a freestanding tackle or toolbox. Innovative Product Solutions'
tackle center
has a gasket to seal out water, a twist-and-lift handle, and four inner boxes with compartments ready to receive your flies, lures, hooks, or other fishing goods and tools. Made of resin with stainless steel hinges and designed to shed water, this tackle box would be a wonderful addition to any fishing boat. [caption id="attachment_623" align="aligncenter" width="300"]
Innovative Product Solutions/Jim Black 13" x 17" tackle center, GLS #1032184[/caption]
Fish finders
put the odds in your favor by, well, helping you find the fish. They show the fishes' position relative to the finder's transducer as well as their depth in the water. [caption id="attachment_608" align="aligncenter" width="300"]
Humminbird XP2000 Fish Finder, GLS #1002415[/caption] Some fish finders are sophisticated enough to show water temperatures at different depths, which is good information to have for advanced anglers. Fish finders and depth finders are rated for different depths, so a lake angler will need a different model than a
deep-sea
fisherman. More complex still are sonar-GPS chartplotter combination units, like
this one
by Humminbird. [caption id="attachment_613" align="aligncenter" width="300"]
Humminbird ONIX 10 CI NT SI boat Sonar/GPS Combo, GLS #1069271[/caption] Great Lakes Skipper has hundreds of fishing pole holders, organizers, and racks. Long
tube-style fishing rod organizers
are built to hold several poles (or only
one
), and tournament racks also accommodate
two
,
three
, or
more
rods. For a flashy touch, choose these
LED fishing pole holders
. [caption id="attachment_609" align="aligncenter" width="300"]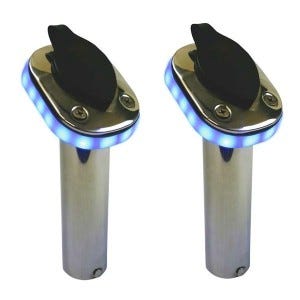 Sea Sense Boat Rod Holders, GLS #1063177[/caption] Their wires resist UV light, moisture, and crushing, and their eye-catching looks can't be beat. A life jacket always makes a great gift for any boater. We are proud to carry
life vests
for every member of the family, from
babies
to big guys. We even have life jackets for your
pets
– perfect for your four-footed
first mate
. [caption id="attachment_620" align="aligncenter" width="300"]
Paws Aboard dog life jacket for dogs 50-90 lbs, GLS #1063454[/caption] Speaking of jackets, check out our
hooded sweatshirts
. They are cozy, soft, and have a kangaroo pocket to warm hands. [caption id="attachment_615" align="aligncenter" width="300"]
Appliqué sweatshirts, Pelican Gray (GLS #1069858, 1069859, 1069860) & Vintage Gray (GLS #1069862, 1069863), sizes L-2XL[/caption] Available in two styles and three colors, our pullover hoodies are made from thick, cotton-polyester fleece and feature embroidered and appliquéd graphics. [caption id="attachment_616" align="aligncenter" width="300"]
Black logo sweatshirt, GLS #1068947 & 1068949, sizes L & 2XL[/caption] Choose our 50/50 poly-cotton blend
black T-shirts
for warmer days on the water, or layer them under a sweatshirt to ward off the chill. [caption id="attachment_617" align="aligncenter" width="300"]
Great Lakes Skipper T-shirts, sizes S-2XL[/caption] For your hardest-to-shop-for fishing friends, call Customer Service at 262-898-1855 and ask about purchasing a store credit. Follow us on
Facebook
,
Twitter
, and
Google+
for the latest sales and giveaways - we announce coupons and contests on social media first!