Spotless Tips for Stainless Steel
Sleek and shiny, stainless steel is often hailed as a miracle metal, especially for boats. An iron-based metal amalgam that doesn't rust? Sign us up for that! Several different inventors discovered the marvelous properties of steel-chromium alloys as far back as the mid-1800s, but it's an Englishman named Harry Brearley who gets most of the credit for his 1912 discovery. Unlike iron, which forms rust when it oxidizes, chromium forms a protective film when it oxidizes, and alloys containing at least 10.5% chromium also have this trait. The film seals out water and air, and re-forms itself if the metal is scratched. Cool, huh? [caption id="attachment_457" align="aligncenter" width="300"]
Wellcraft Volvo Penta F6 stainless propeller set, greatlakesskipper.com[/caption] This amazing resilience and resistance to corrosion makes stainless steel the perfect material for marine applications like
propellers
,
exhaust tips
, and
bimini tops
. As tough as stainless steel is, however, it's not indestructible. That protective film of chromium oxide is vulnerable to chlorides, including salt and chlorine bleach. After every saltwater boat trip, rinse seawater off your deck,
cleats
,
rails
, and other stainless deck parts and dry with a soft cloth. Avoid cleansers containing bleach. Read labels carefully: bleach is a common ingredient in household cleansers. [caption id="attachment_456" align="aligncenter" width="287"]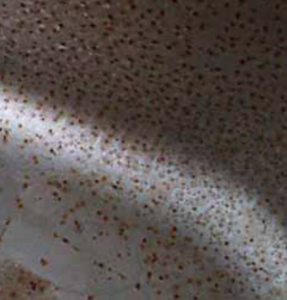 bleach damage on stainless steel[/caption] Hard water can leave white spots on stainless steel. Luckily, these mineral deposits wipe away with a damp cloth followed by a dry towel. Don't scratch. You can get away with using a mild abrasive to remove black pitting on dull or brushed stainless steel, but a mirror finish will show every scratch. If you must use an abrasive, use a gentle, non-chlorinated one like Bon Ami, or a simple paste of baking soda and water. Speaking of abrasives, never use steel wool or a wire brush on stainless steel. Tiny particles of ordinary steel wire will get embedded in the stainless, and eventually they will rust. Sandpaper is out, too. If the mild abrasives mentioned above aren't cutting it, try using them with a nonmetallic scrubbing pad. If you notice rust spots, a chemical called pickling solution can remove them. Available in paste, gel, liquid, and spray forms, pickling is very acidic, so wear gloves and carefully follow the manufacturer's instructions. Rinse with a solution of baking soda and water, followed by plenty of clear water. Know the difference between
chrome-plated parts
and stainless steel. As anyone who's tried to use a magnet to hang something on their stainless steel fridge can tell you, stainless steel is not magnetic. Test metal parts with a magnet to make sure you know which are which, and care for them accordingly.